Essential Molecular Biology - 'Hands on' Laboratory Course, 22th edition - Details
Last Updated: Tuesday, 28 February 2023
Print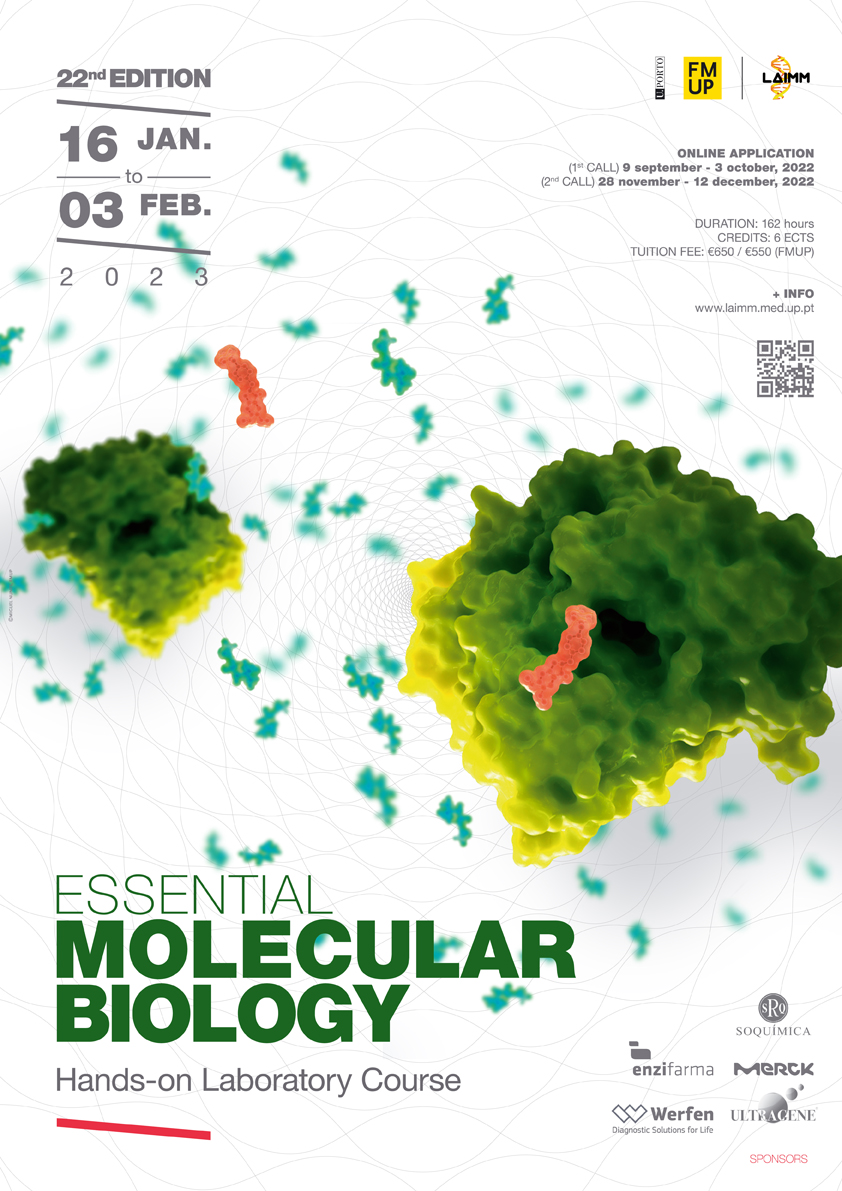 Page 2 of 4
Details
Essential Molecular Biology - A hands-on laboratory course, 22th Edition
Date: 16 January - 3 February 2023

This course covers the fundamental principles and techniques used in experimental research in the area of Molecular Biology. Essentially practical in nature, it aims at the learning of current genomics and proteomics techniques, as well as the acquisition of skills in laboratory experimentation required for scientific research in biomedicine.
By end of the course the participants must be able to:
Master the basic practices in laboratory work.
Carry out experimental work and interpret results proficiently and confidently in the
areas of genomics and proteomics.
Apply the acquired knowledge to the design of a laboratory experimental plan.
Programmatic content
Basic laboratory practice: laboratory safety, pipetting and solution preparation.

        Genomics:
Nucleic acids extraction (DNA, RNA) from cells, tissues or fluids
Quantification techniques and quality control
cDNA synthesis by reverse transcription (RT)
DNA and cDNA amplification by conventional PCR and real time PCR (qPCR)
Recombinant DNA techniques (enzymatic restriction, transformation, molecular cloning)
Gene expression studies (RT-qPCR)
        Proteomics:
Protein extraction from cells or tissues
Quantification techniques
Electrophoresis (SDS-PAGE)
Western blotting
Isoelectric focusing
Purification by liquid chromatography
Protein co-immunoprecipitation
Participants will be able to focus their training on specific techniques by selecting defined topics from the programmatic content, with view to acquiring/developing good skills on those techniques that will be more useful from a professional and/or curricular standpoint.
Teaching methodology
A theoretical introduction to each topic will be followed by the practical module, which will entail the demonstration of the laboratory technique followed by its practical execution by the participants. The learning process will develop through direct contact with the laboratory experimental techniques and by the systematic execution of all the essential steps conducing to the successful completion of the experiment.
Evaluation type and criteria
The participants will be evaluated continuously through the execution of the laboratory work (85% of the final grade) and by a multiple-choice computer test (15% of the final grade).
Coordinator
Carlos Manuel Gomes Reguenga, Faculty of Medicine of the University of Porto.
Faculty
Carlos Manuel Gomes Reguenga, Filipe Almeida Monteiro, Miguel Luz Soares, António Carlos Ferreira, Ph.D.s in the area of Molecular Biology, Faculty of Medicine of the University of Porto.
Target audience
Researchers, near-graduation and graduate students in the areas of Biological and Medical Sciences.
Admission criteria
Basic university training in Biological and Medical Sciences.
Dates
16 January - 3 February 2023
Schedule
Monday to Friday - 09h00 to 17h45.
Admission
Applications / registrations will be conducted online only, on the website of the Faculty of Medicine of Porto.

 Instructions for online application        

Options of Experimental Focus
Online application
1st call: 9 September - 3 October 2022
2nd call: 28 November - 12 December 2022
Online registration
1st call: 1 - 22 November 2022
2nd call: 3 - 10 January 2023
Number of participants
15 (max) / 8 (min).
Ranking criteria
Curricular analysis, subject of graduation, order of application. Eligibility according to the admission criteria.
Credits
6 ECTS
Tuition fee
FMUP students and staff: 550 €;
all other participants: 650 €.
Language
English / Portuguese.