About UATM
Facilities
The Mutant and Transgenic Animal Unit operates in dedicated facilities at the Department of Biomedicine and the General Animal Facility of FMUP.
At the DEB, the UAMT consists of a laboratory equipped to carry out embryo collection, micromanipulation, microinjection, culture and transfer, in sanitary conditions classified as conventional vivarium.

The General Animal Facility houses all animals used by the UAMT in two distinct sanitary areas: a conventional area, of controlled access and where staff wear personal protective equipment including dedicated uniforms, shoes, caps and gloves; and the SPF (specific pathogen-free) or biological barrier area, where entry is limited to animal care and UAMT core personnel only. Entrance is done through a shower facility and the staff operate with full personal protective equipment. All equipment and materials are sterilized prior to being transferred into this area. 
All animals introduced into the conventional and barrier areas are rederived by embryo transfer or introduced directly if originated from accredited facilities of recognized health status and bearing valid health screening reports.
At the General Animal Facility, the UAMT is provided with rooms for surgical and non surgical procedures (e.g. oviduct/uterine transfer and embryo collection, respectively), as well as rooms for animal housing and breeding.
Personnel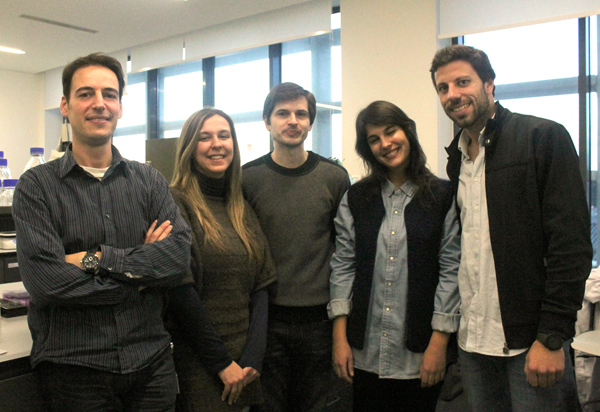 Miguel Luz Soares, Ph.D. – Head of Unit / Specialist Researcher
Tel. 22 042 6779
Email: This email address is being protected from spambots. You need JavaScript enabled to view it.

Carlos Daniel Vasconcelos, B.Sc. – Specialist Technician
Tel. 22 042 6733
Email: This email address is being protected from spambots. You need JavaScript enabled to view it.

Ana Alexandra Abreu, M.Sc. – Researcher
Tel. 22 042 6774
Email: This email address is being protected from spambots. You need JavaScript enabled to view it.

Sofia Duarte Carvalho, M.Sc. – Researcher
Tel. 22 042 6774
Email: This email address is being protected from spambots. You need JavaScript enabled to view it.

António Carlos Ferreira, Ph.D. - Researcher
Tel. 22 042 6733
Email: This email address is being protected from spambots. You need JavaScript enabled to view it.
Contact information
Laboratory of Support to Research in Molecular Medicine
Department of Biomedicine - Faculty of Medicine of the University of Porto
Alameda Prof. Hernâni Monteiro, 4200-319 Porto, Portugal
Tel:  (+351) 22 042 6779
Fax: (+351) 22 551 3655